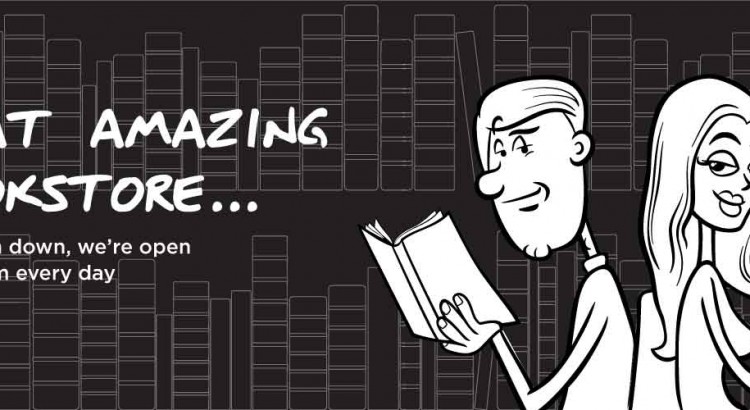 Come on down, we're open 9am-8pm every day.
We're a medium-sized used and new bookstore in central Reno, about 1.5 blocks south of Costco and REI.  We're both local and independent!  People are often elated when they come to our store–we have the lowest prices in town and a great selection of appealing books.  Most new books are 50-90% off list price, and we offer brand new bestsellers at 20% off list price.  Never again pay full price for new releases!
We Have Wallet-Friendly Prices:
Used Paperbacks: $1.99
Used Hard Covers: $3.99
Kids books: $1.99(up to grade level 6)
CDs: $1
DVDs: $3.99 or 3 for $9.99
Comic Books: $1
Video Games: $2.99
Audiobooks: $6.99
The Outside Sale is open almost all day, every day. We usually have 10,000 books, DVDs, CDs, and vinyl records for $1 each. Kids books are priced at $1 and also 25¢.  On Sundays, it's the Bag Sale. Fill bags with your favorites for just $5.
If you can't find it in the store, we will be happy to order it for you. Just ask one of our friendly staff for assistance.
Incredible Sales
Take our bag sale, for example.  Fill a grocery bag from thousands of sale items for just $4.99.  (Who else does that?)  Around here, there's something happening every day, so be sure to check out our calendar and subscribe to our weekly e-mail newsletter so you won't miss the sale du jour or events like author signings, story times, or Free Book Days!
Community Involvement
We love giving back to the community! We donate books to teachers and nonprofits, order brand new books for teachers at a discount, and hold school book fairs. We even have FREE Wi-Fi at our store! Click here for more local booksellers and literary resources.
Hiring
To find out whether Grassroots Books is currently advertising a position, follow this link to search the jobs section of Craigslist: "Grassroots Books".  Click here to view a sample employment add.
Even when we are not advertising a position, we sometimes hire people with a year of full-time experience shelving books or who are otherwise a great fit.  To apply, email to [email protected] rather than through Craigslist.